Rooftop Restaurant & Bar #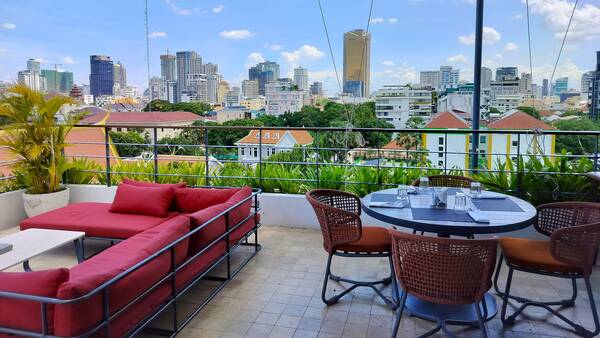 Yummy snacks, healthy meals and signature cocktails or mocktails: a relaxed citylife experience in the sky.
When revisiting standards of International and Khmer cuisines, we thrive to privilege locally sourced, organically-grown products. From homegrown black ginger and herbs in our dishes to the JAYA liqueurs in several of our cocktails, we are inspired bythe sustainable food philosophyat the core of brands such as Thnot or Kirum.
Launched in 2001 by Dr. Hay Ly Eang, Confirel line of products was developed with the conviction that rural development and the improvement of farmers' living conditions were the keystone of a happy future for Cambodia. Starting from natural palm sugar (Thnot, in Khmer), Kirum peppers and herbal teas, the brand encourages local production of ingredients that are both wealthy and tasty.
Complimentary Buffet Breakfast for our guests: 6 AM-10 AM.