Penh House is a 52-room boutique hotel built in 2018 on Phnom Penh's iconic Street 240, a few steps from the Royal Palace and Wat Botum Royal Pagoda. The hotel boasts a spa, a fitness center, and a rooftop bar/ restaurant/pool with 360° views over the city's cultural monuments, with fast-changing cityscape in the background.
Key features:
- connection to both the historical neighborhood and modern skyline,
- design inspired by Khmer modernist architecture, with a spectacular rooftop pool,
- active involvement in organic farming and sustainable food production (Kampot farm & processing plant).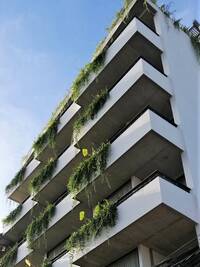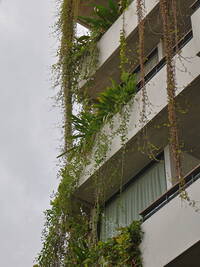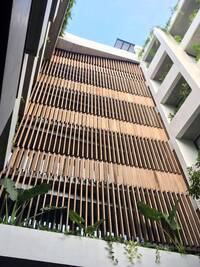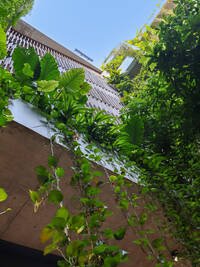 2018: while skycrappers were mushrooming around and deeply affecting Phnom Penh cityscape (for the worst or the better), our vision was to build a twin structure without windows encroaching on neighboring plots, and respecting the vicinity of Cambodia's Royal Palace and several historic highmarks. Our mottos were (and still are): 1) In-tune with the historic district and the essence of Phnom Penh as 'Pearl of Asia'; 2) Sleek modern nomad design and feel; 3) Blending tradition and future, as the two 'Modernist Apsaras' gliding over the Lobby area (artwork by Jeremie Montessuis) express it so well.

With Ivan Tizianel and Asma Architects Agency, we thought of a place in line with the 'New Khmer architecture' spirit , especially in respect with the use of natural air- and light-flow. Interior patios, vegetal walls, ponds, and a rooftop both spectacular and respectful of the cultural environment were carefully developed, in team with contractor Didier Faraud. Thanks to the central air and light shaft, all rooms have plenty of natural light and, still human-sized on the outside, the twin building boasts a total depth of 48 meters on ground and upper levels.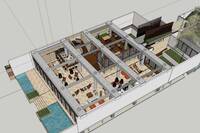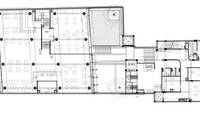 Bamboo and reclaimed wood furniture line, original fabric designs with tan, sand and forest green as mood palette, nomad accessories went homegrown under the supervision of Lucille Giralté, Sreyneth Tep and Polinich Sokren in close collaboration with Mondulkiri-based Bambooza Cambodia.
Then, as a green hotel, what do you think? Around the unforgettable swimming pool, landscape designer Robin Rérat has opted for the ondulating, strikingly elegant perennial Pennisetum alopecuroides, familiar to Cambodian highlands where it is known as អណ្តាតឆ្កែ, andta chkai, dog's tongue. "The way it plays with light and wind is truly amazing," remarks the landscaper, "and in addition, we thought: "nice pool and palm trees, how blah is that? We're in the vicinity of the Royal Palace, we need some vegetal element evocative of the country, something subdued and yet powerful."
As for the vegetal walls, they have since proven how efficient they are to counterbalance urban heat islands, and soothing for the eye and the senses.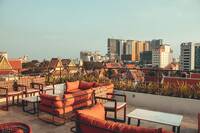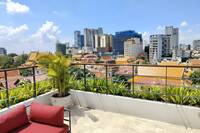 Reviews & Accolades
What you say about your Penh House experience.
Happening at PenhHouse
Since its opening in 2018, PenhHouse has been a magnet to numerous fashion shoots and presentations, live music gigs and semi-private events.